by Kiona Leah
Coming out of my first aerial you will see me hop off my left foot, it's because my shoe slipped as I landed. No one's fault, except a bad heel on a shoe.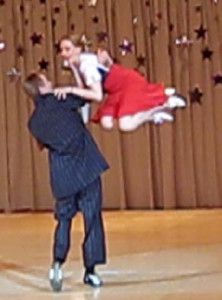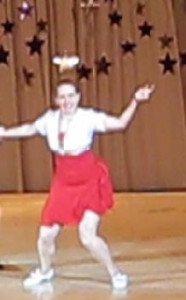 Would YOUR Knee have Survived?  Keep in mind he's 6'-4" tall so here I'm over 4' off the ground . Well mine didn't exactly either…You can see when I landed my left knee (on the right on the screen) wobbled and the foot is still facing forward. My meniscus, medial collateral ligament and patellar tendons were partially torn and several of the ligaments stretched and strained…however, watch the video I kept dancing for a while….because T-Tapp made me strong enough to minimize damage and be stable. Full recovery, without surgery…Yes I CAN!!!
What did I do to rebuild my knee?
I thought I would share with everyone what I did to rebuild my knee without surgery to show that YES YOU CAN! You can see from the pictures that my knee took quite a pounding, but I did not require nor did I get surgery, but here is a summary of what I DID do to re-build my knee, without surgery and how quickly the body can rebuild.
The final prognosis per Dr. Chad Blaker, Raquel Rosas, Hp and Heather Ruth LAc was that there were partial tears in the Medial Meniscus, the Patellar Tendon and the Tibial Collateral Ligament. Because I had lost my job 8 days prior to the accident my insurance was up in the air and by the time it was straightened out Dr. Chad advised that an MRI would not reveal the original damage and was not worth the time or money so none was taken, all exams were from external features and Ashii points in acupuncture.
But without surgery I was off two crutches in 6 days and a single crutch in 4 more days. Total time on crutches was 10 days. Then my doctor advised me to walk slowly on the leg instead to keep the body in better alignment and start to strengthen the joint.
A summary of my treatments is as follows:
Chiropractic adjustments from Dr. Chad Blaker—weekly for 6 weeks stretched to 10 days after that and 3 weeks after that, total treatments 7 to date
Homeopathic Lymphatic Drainage and Inflammation work by Raquel Rosas, Hp—Bi weekly ongoing total treatments 6 to date
Acupuncture with Heather Ruth LAc—biweekly for first treatments then extended to monthly and then to every 5 or 6 weeks, total treatments 3 for injury recovery
Massage with Amanda Parr– weekly once the joint was strong enough to handle a massage then extended to monthly for normal body maintenance, total treatments 2
Reflexology with Jae Sook Cohen—once per treatment thus far, additional treatments anticipated bimonthly, total treatments 1 to date
And I never would have been as lucky to sustain such MINOR injury if it weren't for the T-Tapp workout. Prior to the injury I was doing the Basic Workout Plus some floor work for myself and teaching classes primarily consisting of the Basic Workout and occasional Floor work. So luckily I was VERY strong or I would have definitely torn things a LOT more than I did! After the injury my workouts changed a bit and have continued to evolve to evoke the exercises I NEED to continue my progress
A summary of my workouts each week is as follows:
Week 1—Floor work on my back consisting of awesome legs stretches and modified AL moves, also straddle stretches and ab work with legs up
Week 2—Chair workout of most of Basic Plus and continued work on the floor with Awesome Legs and Straddles
Week 3– Basic Plus except for T-Tapp Twist and Hoedowns, modified as necessary. Some work still on straddle stretches. Addition of 10 laps in the pool and water walking
Week 4—Basic Plus, entire workout including T-Tapp Twist and Hoedowns, addition of some Floor Moves Organs in Place, Half Frogs and Ladybug plus increase swimming to 12 laps and water walking
Week 5—Same as Week 4, excluding swimming because of allergic reaction to chlorine in the pool
Week 6—MORE workout to help really build strength in the leg, including Fencing Lunges and One-Legged Balance Move
Week 7—same as week 6 except added back in Floor exercises of Organs in Place, Half Frogs, Elevators, LadyBug and Craw Claws
Week 8—advised to do single legged squats on a balance ball by Dr. Chad so workout became more demanding focusing on Instructional 2 and included Primary Back Stretch, Plies, Lunges, all THREE sets, Balance, all FOUR sets, Air Planes, Thread the Needle and Runners Stretch, occasional addition of floor work from Week 7
Week 9—Continued regimen from Week 8
And of course the MOST important questions answered…when did I get my LIFE back…things like driving my stick shift car, walking, dancing, getting in and out of the car easily and moving around the house really became a challenge for a while. They taught me to appreciate how easily I moved before and those things returned as follows
Driving my Stick Shift—about 3 weeks getting in and out of a car easily about 4 weeks.
Walking—10 days
Dancing—Went to my first dance in 3 weeks, I danced the Hokey Pokey. My next dance was 10 days later, I danced 5 songs, 10 days later I danced 15 at a dance and 2 weeks following I returned to the dance floor for GOOD…total time off the dance floor 7weeks until I could enjoy a full night of dancing and I competed again in 8 weeks, made finals!
And just for good measure, the supplements I took were as follow. Note NONE are pain killers: Rotozyme (Homeopathic Anti Inflammatory and Protolytic Enzyme), Inflammenz (similar to Rotozyme), Nikken Joint Complex, LigaPlex I and II, T_Tapp Alfalfa, BioEnergetics Protolytic Enzyme, Melaluca Joint Complex. Topical—Nikken CM Cream, Arnica Prophen, Bio-Freeze, Muscle Mist, Magnesium Oil and Traumeel, Epsom Salts, Essential Oils, Pomegranate and Peroxide. Everything all natural or homeopathic!